PacDrive 3 servo drive systems.
Performance is just the beginning.
For the cosmetics industry
For the pharmaceutical industry
PacDrive 3 servo drive systems
PacDrive 3 is the latest in a series of servo drive systems, the successor to ELAU's PacDrive M series.
The PacDrive family of servo drives has been a leader in both the German and global market for packaging machines and systems for more than 20 years. Users value these solutions because machines equipped with them guarantee performance
at the highest level.
Solutions in the PacDrive 3 series
adaptable servo drive design
single and dual servo drives
single power supply and power rail
automatic device detection
Plug&Play architecture
wide range of motors
space reduction in the control cabinet
energy efficiency - braking energy recovery
reduced deployment time
fast replacement
reduction of system costs
PacDrive 3 servo drives
 

Series

Lexium 52

Lexium 62

Lexium 62 ILM

Description

Classic single servo drive

Separate power source and common DC voltage bus to which servo drives are connected

Motor integrated with servo drive, separate power source

Recommended application

Machines with a small number of axles

Multi-axis machines

Modular machines, carousel cappers

Compatible controllers

LMC Eco, Pro, Pro2

LMC Eco, Pro, Pro2

LMC Eco, Pro, Pro2

Compatible motors

SH3, MH3, SHS

SH3, MH3, SHS

Silnik zintegrowany

Dual servo drive availability

NO

YES

NO

Nominal power

0,4 … 7 kW

0,95 … 24 kW

0,31 … 1,91 kW

Continuous current

1,5 … 24 A

2 … 50 A

1,55 … 4,8 A

Peak current

6 … 72 A

6 … 130 A

5,7 … 24 A

Brake energy recovery

NO

YES

YES

Communication protocol
with other devices

SERCOS

SERCOS

SERCOS

Available versions
with security features

NO

YES

YES
PacDrive 3 servomotors
 

Series

SH3

MH3

SHS

Description

High dynamics of movement

Classic motors

Stainless steel housed motors - dedicated to food production and pharmaceuticals

Compatibile servodrives

Lexium 52
Lexium 62

Lexium 52
Lexium 62

Lexium 52
Lexium 62

Nominal power

0,17 … 10,6 kW

0,75 … 7,2 kW

0,3 … 1,3 kW

Rated torque

0,2 … 50,7 Nm

1,3 … 50,7 Nm

0,79 … 4,0 Nm

Peak torque

0,8 … 330 Nm

4,2 … 195 Nm

3,2 … 28,3 Nm

RPM

do 9000 obr/min

do 5500 obr/min

do 6000 obr/min

Flange sizes

40 … 205 mm

70 … 190 mm

55 … 100 mm

IP degree of protection (shaft / housing)

IP54 / IP65
IP65 / IP65 lub
IP65 / IP67

IP65 / IP65
IP67 / IP67

IP67 / IP69k

Optional brake

YES

YES

YES

Shaft end

Smooth or keyed

Smooth or keyed

Smooth 

Cable connectors

Straight or rotary angle

Rotary angle

One straight connector for the hybrid cable

Encoder type 
High-resolution, single- or multi-turn

High or medium resolution, single- or multi-turn

High-resolution, multi-turn

Electronic nameplate

YES

YES

YES
Logic Motion Controllers (LMCs) - the eleven controllers of the PacDrive 3 family designed to manage applications requiring the highest performance and control of synchronized motion of up to 130 axes simultaneously. Such extensive control of servo systems is ensured by the use of Intel processors with processor clock rates up to 2.2 GHz.
LMC motion controller with integrated PLC - one control device for the entire machine
Advanced diagnostic functions: built-in oscilloscope in the control program, extensive event logger,
Multiplicity of communication protocols
Easy service: quick replacement of the device in case of failure, no need for reprogramming (only flash memory card reloading required)
PC-free operation: integrated text display in five languages for system and diagnostic messages
Simplified programming: a prepared project template (so-called Template) with a large number of ready-made function blocks, the possibility to create your own libraries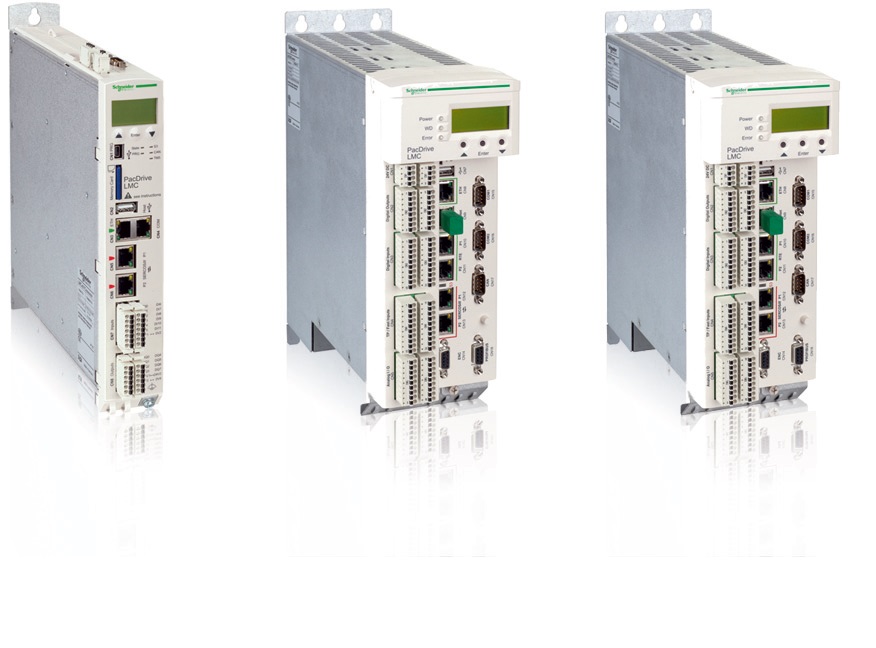 LMC series controllers are equipped with a SERCOS communication bus to ensure proper communication speed, so we can provide a network scan time of 1-4ms. SERCOS III protocol based on the physical layer of Ethernet allows us to communicate all system components such as controllers, servo drives, IO systems, and safety systems ensuring full control of the machine.
Besides the SERCOS bus, PacDrive LMC motion controllers can support  

standards of communication:


Profinet

Profibus DP

CAN

EtherNet/IP

EtherCat

Modbus TCP

IT protocols:

TCP/IP

UDP/IP

OPC UA

FTP

HTTP (built-in web visualization)

serial communication:

USB

RS232

RS422/485
There are also optional expansion cards available for all controllers to use additional communication interfaces such as EtherNet/IP.
In order to control motion over individual axes of the real system, the control program uploaded to the controller can have up to 4096 electronic CAM motion cams that can be switched between each other during motion.
SoMachine Motion software is used to build the control program for LMC controllers. It allows you to create a single control program for system operation logic and axis motion profiles. As standard, it includes a number of libraries with ready-made function blocks for the most common servo applications. Dedicated diagnostic software is available for quick diagnostics of the controllers.
Need more technical information?
Check out motor dimensions, connector descriptions, and more in our technical guide!
Modern and efficient systems for packaging machines
With PacDrive 3 solutions you can achieve shorter time-to-market and reduced unit cost for your products. For more than 20 years, the PacDrive family of servo drives has been a leader in both the German and global packaging system machine market. Customers value these solutions because machines equipped with them guarantee performance at the highest level.
Mateusz Biega Packaging Process Automation Specialist
Full integration with MES/SCADA systems and Flexibility for scheduling machine operators
Visualization of KPIs for production staff
Ensuring production continuity
Energy efficiency of machines
Reduction of system costs,
Service warehouse and downtime
PackML standard compatible
Simple and fast data collection from the machine
Efficient diagnostic tools and fast replacement
in case of failure
Braking energy recovery
One control platform for the machine/line
Production
ELAU servo systems - PacDirve M withdrawn from sale as of 31/12/2018.
Check out the options for migrating systems to the PacDrive 3 series.
We perform on-the-move diagnostics, systems audits, consultations, and on-site training. Preventive maintenance PacDrive conducted by certified DYNAMOTION engineers supports the elimination of failures and downtime and helps expand the knowledge of servo systems.
Grzegorz Król Technical Support Specialist